Infrared Excitation Pigment
Infrared excitation pigment (IR PIGMENT) absorbs IR and then emit colorful fluorescence almost instantaneously. Light energy gets released very fast in the process. Thus, when the IR is dimmed or blocked, the material stop emitting florescence immediately.
With the features of high technology content, difficulty in copying and high anti-forgery capability, it can be applied in anti-forgery printing widely, especially in RMB notes and gasoline vouchers.
Infrared Excitation Pigment's Description:
Color conversion: from colorless to colored

We have five colors which is GREEN, RED, YELLOW,BLUE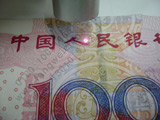 SMAROL INDUSTRY CO.,LTD

Email: sales@smarol.com
Tel:+86 571 83735530
Skype: smarolcolor
WhatsApp:+86 15958136613