Magnetic printing ink
What is Magnetic printing ink?
Magnetic printing ink is made from magnetizable pigment, such as iron oxide black (Fe3O4)and iron oxide brown (Fe2O3), most of which are needle-shaped crystals below 1 μm. After being processed with magnetic field, they can easily arrange themselves with magnetism and get relatively high residual magnetism. Consequently, the ink made from them has magnetism and therefore becomes magnetizable ink. It is widely used in areas such as the classification, retrieval and identification of bank tickets and those in postal services. It can be made into magnetic letterpress printing ink, magnetic colloidal ink and so on.
Patterns and logos printed with magnetic ink containing magnetic substance can be checked by magnetic detector, and printed passwords can be read out by information decoder and recognized through rubbing effect of automatic processing device.
Magnetic ink's Color:black, brown
Printing Way:Offset,letterpress,silk-screen ,gravure
Ink made from magnetizable materials can be read by electric reading devices after it is printed on certain bases such as the new bank notes,credit cards and so on.
Magnetic ink printing belongs to magnetic recording techniques. The magnetic recording body made by magnetic printing enables it to have special performances as required . At present, magnetic printing is widely used in many areas such as train or bus tickets, monthly tickets, printing,bank passbooks, ID cards, etc., all of which use magnetic cards. Price listing cards apply magnetic films. Information registration forms and cheques also use magnetic ink to print items like the amount of money. All in all, magnetic printing will be more widely used day by day.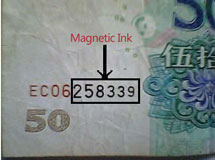 SMAROL INDUSTRY CO.,LTD

Email: sales@smarol.com
Tel:+86 571 83735530
Skype: smarolcolor
WhatsApp:+86 15958136613