Optical Variable Pigment
Optical Variable Pigment's Specifications
Optical Changeable Ink/optical variable pigment is the most complex intererometric type of anti-counterfeiting ink/pigment.
The finished product is provided with florid mechanic color. The color spot will present complete different colors while changing the viewing angle in the day light, it has very strong optical variable characteristic and obvious chromatism.
Optical Variable Pigment can't be reproduced by the high definition of copy machine, scanner or other equipment. The printing character is unique and unable to copy.
Optical Variable Pigment's APPLICATION
It can be applied in different kinds of anti-counterfeiting packaging, securities, famous trade mark, certificate and note, bank-note etc. Now many tobacco and wine companies are adapting it in the anti-counterfeiting packaging.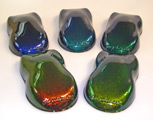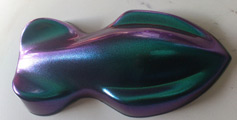 Optical Variable Pigment's Color available:
VOILET TO GREEN
RED TO GREEN
GOLD TO SILVER
YELLOW TO BLUE
GREEN TO VIOLET
DARK GREEN TO VIOLET
BLUE TO VIOLET
JADE BLUE TO VIOLET
YELLOW TO BLUE
GOLDEN RED TO GREEN
BLUEISH VIOLET TO GREEN
RED TO GOLD
Optical Variable Pigment TDS
ITEM
SPECIFICATION
Appearance
Features evenly
Volume (L/kg)
1.8
Heat resistance
>450℃
Partical size
<0.5%
PH Value
6.8
Specific surface area (BET)
 About 1.0m2/g
Acid resistance (2%Hcl)
by 300 hours
Alkali resistance (2%NaOH)
by 300 hours
Dispersion
80 portion Resin solution
(about 50 mins,DIN4)
20 portion OVP
blend in low speed 15mins
content is 3-5%
Storage stability
24 months
SMAROL INDUSTRY CO.,LTD

Email: sales@smarol.com
Tel:+86 571 83735530
Skype: smarolcolor
WhatsApp:+86 15958136613