Home > Temperature Reactive Color Changing Materials
Temperature Reactive Color Changing Materials
WHAT IS THERMOCHROMIC MATERIAL?
Thermochromic material also called temperature senstive material, thermochromic heat senstive material, color change temperature senstive material, color change material change by temperature and temperature Reactive Color Changing Materials.
Thermochromic series basic theory
Thermochromic pigment is microcapsule product which is reversible, it change color at different temperature. Reference of applied colors: The color can be mixed together, and also by adding other pigment to get other color effects. Temperature range from -10°C to 69°C . (The standard colors shown above are printed by general ink, please apply the correct color from Thermochromic ink.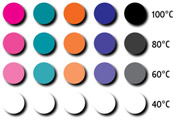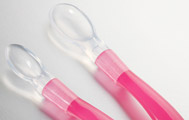 For different demands of the application of products, one can set up different temperature intervals. Generally, the temperature color changing intervals established are from 29°C. to 33°C. The density of color can be set thus it will decrease little by little from low to high temperature until transparent or its background color.
The styles and applications of thermochromic materials:
Suggestive amount of application of thermochromic powder:
The adding amount in oily inks and paintings will be around 5%-30%.
The adding amount in aqueous inks and paintings will be around 3%-15%.
The adding amount in plastic injection and extruding will be around 0.5%-3%.
The application amount of every thermochromic materials depends on the softness, color density, thickness, color screening effect and color being-screened effect of the materials. In the case the softer, the denser of color and the thicker of the materials will be used less in amount.
The particle dimension of thermochromic mirocapsule is between 1-6 micron, the highest temperature of heat endurance is 280℃. It has good solvent endurability and perform good dispersion property.
Formats of our thermochromic materials include powders, aqueous slurries, ready to use inks, and master batch pellets.
Applications are boundless such as beverage labels, packaging labels, shirts, ceramic coffee mugs, stickers, toys, straws, rubber ducky, and so much more.  You are only limited by your imagination.
Standard color: Black, Blue, Red, Green, Orange,Yellow & Grey
Custom color: Rose, Golden Red, Grass Green, Dark Green, Sapphire blue, Peacock Green,Sky Blue.
Standard Activation Temperatures: 15˚C, 31˚C & 47˚C
Custom Activation Temperatures: -10˚C to 69˚C
PRODUCT RANGE:
Reversible Thermochromic Pigment
Irreversible Thermochromic Pigment
Color To Colorless Thermochromic Pigment
Colorless To Color Thermochromic Pigment
SMAROL INDUSTRY CO.,LTD

Email: sales@smarol.com
Tel:+86 571 83735530
Skype: smarolcolor
WhatsApp:+86 15958136613